Has your little one grown up?  Has your spouse reverted to being a kid again?  Does your TV log more gaming time than programming time?  Do you gamers complain of back or arm fatigue after a night (or full day) of video gaming?  Are you at a loss to figure out what to buy they for Christmas?  Have we got the idea for you!!!
Introducing the ErgoGMR Gaming Pillow as featured on thegamingmonitor.com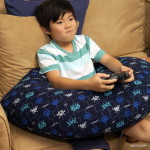 This ergonomic gaming pillow is designed for that hard-core gamer in your life (and maybe that's you!), and features:
Optimal ergonomic design to support arms during game play

Increase your playing time by eliminating back, neck and arm strain

Great support for game controllers, laptops, tablets

Works with all gaming systems, controllers, and other technology
Available through Cozy Cuddles Baby Products, Amazon.ca or gamingbuff.com these gaming pillows make an extra special gift for that gamer in your life.
Get one today, while quantities last!!