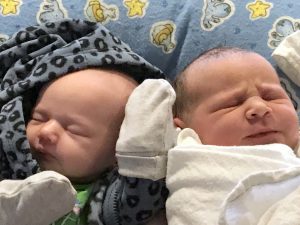 What a whirlwind week it's been as we welcomed our first two grand-kids into the world!
On Sunday, Nov 4th @ 9:14pm we welcomed Arya Grace into the family up in Barrie, ON (7lbs & 22″) and then 6 days later (Saturday, Nov 10th, 2018 @ 2:27pm) we welcomed Melody June into the family in Brantford, ON (7lbs 12 oz and 19.25").  What a joy to see God's handiwork in each of these perfect little bundles!
And it was quite the celebration when Arya made her first road-trip to go see her cousin, Melody, and we were able to let them meet for the first time in the hospital in Brantford on Nov 11th.
Coming up now on 9 days and 3 days respectively, both are doing amazingly well, and of course are feeding well with their Cozy Cuddles Nursing Pillow ;)
We have been SO blessed with these two grand-daughters, and can't wait for our first grand-son to arrive in late-Feb / early March!